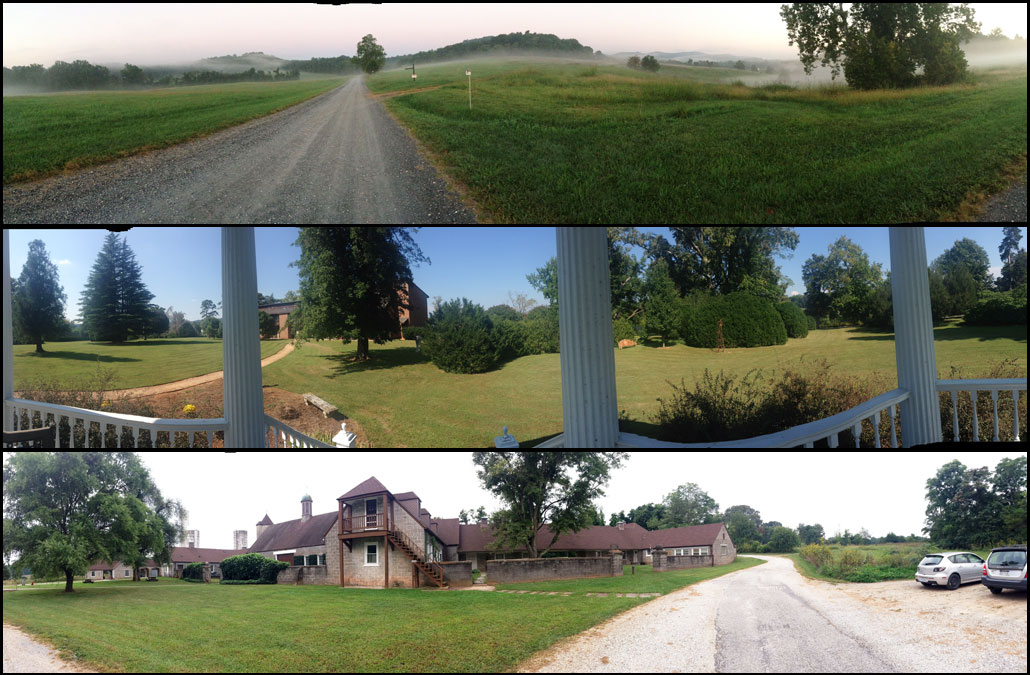 Despite the blog post I wrote about how my first writing residency was one of the best things that ever happened to me as a writer and a parent, I was a wreck when getting ready for my second residency at the Virginia Center for Creative Arts (VCCA). In part because we had just gotten back from a two week family vacation in the rockies, the house was in chaos, the suitcases not yet unpacked. In part because my jet-legged kids were starting school (and poor Stella, my youngest daughter, was throwing up the morning I was supposed to leave). In part because this was the first time, in about a dozen years, that I was getting on a plane by myself. Virginia seemed very, very far away. My husband heroically picked me up the floor (literally). He made me pack, and he made me get in the taxi to the airport, so eventually I did make it to VCCA, but entry was rough: tears, wanting to go home, a low motivation to write, you name it. I gave myself two days of easy tasks (like read a story! Transcribe some notes!). Then I threw out all the other goals I was thinking of accomplishing during my residency and gave myself just one: to complete a second draft of my novella. 
I was impressed how the artists at VCCA really seemed to love the place. One poet I talked told me he had been to Macdowell three times many years ago then decided he would just keep coming to VCCA. He was able to be just as productive at VCCA but the vibe was perhaps more welcoming and casual. Artists keep coming back: one of the VCCA staff said the balance is usually 1/2 returning artists, 1/2 new artists. There are writers and visual artists but also composers at VCCA, meaning I got to hear some beautiful piano music trickling in through the windows while I wrote. 
VCCA is quite different from Saltonstall, where I had my first residency. It's larger (with 25 fellows, while Saltonstall had 5). People are arriving and departing pretty much daily, while at Saltonstall, everyone starts on the same day as a group. Your studio at VCCA is a 5 minute walk (a beautiful one!) from the residence hall, while Saltonstall offers work/live spaces for writers. All meals provided at VCCA, while you prepare some of your meals at Saltonstall. I've read that your first residency is like your first love–you never really get over it, and it's true, Saltonstall has become this magical, mythic Eden in my mind. Still, once I calmed down at VCCA and settled in, I was able to get some good work done, and I hope to go back at some point over the next few years.
Looking back through my notes on my time at VCCA, it feels like I'm nit-picking when I say things like there is a highway (or at least a highway-like road) at the bottom of the VCCA driveway, which altered the atmosphere of the place a little for me. I mean, how can I complain about having two weeks to write and read while someone else cooks and does the dishes for all my meals, and my husband is watching the kids? But because I really enjoyed reading other people's blog posts about VCCA before I came, I thought I'd put down my own thoughts, nit-picking and all.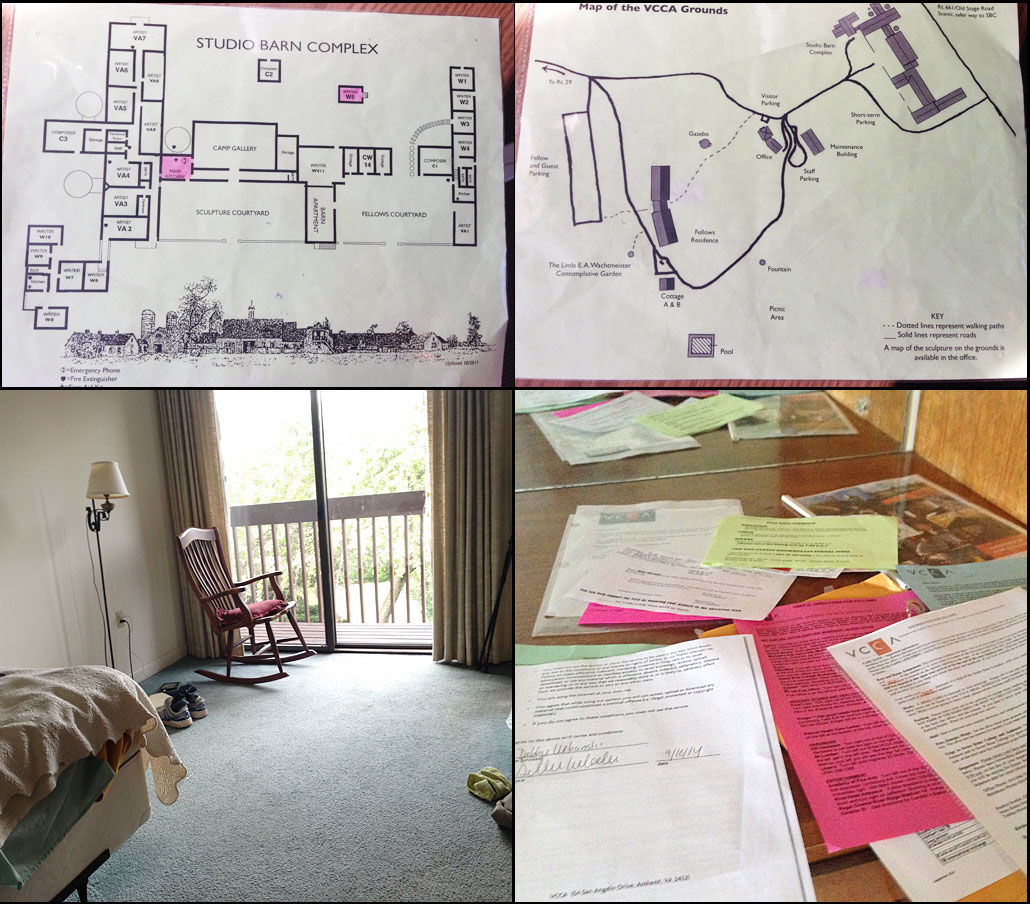 ARRIVAL: a bit mysterious for a first-timer. Luckily I used the cab company VCCA recommends. Charles Tabb drove me to the residence hall, showed me where to pick up my keys, helped me lug my bags up the stairs, showed me the room I was in, and helped me figure out what direction I should walk to go see my studio. I did find everything eventually. There is quite a bit of colorful paperwork to complete. It helped to wander around with the photocopied map, and usually a wandering artist would notice and ask, "Are you new? Are you looking for something?" I definitely needed help finding the bathrooms at the studios as well as the kitchens (in the residence hall, the kitchen is behind the door marked "laundry room"). My first evening there, I spent some time meandering down all the paths on the grounds, and after 24 hours I could confidently say I had figured the place out.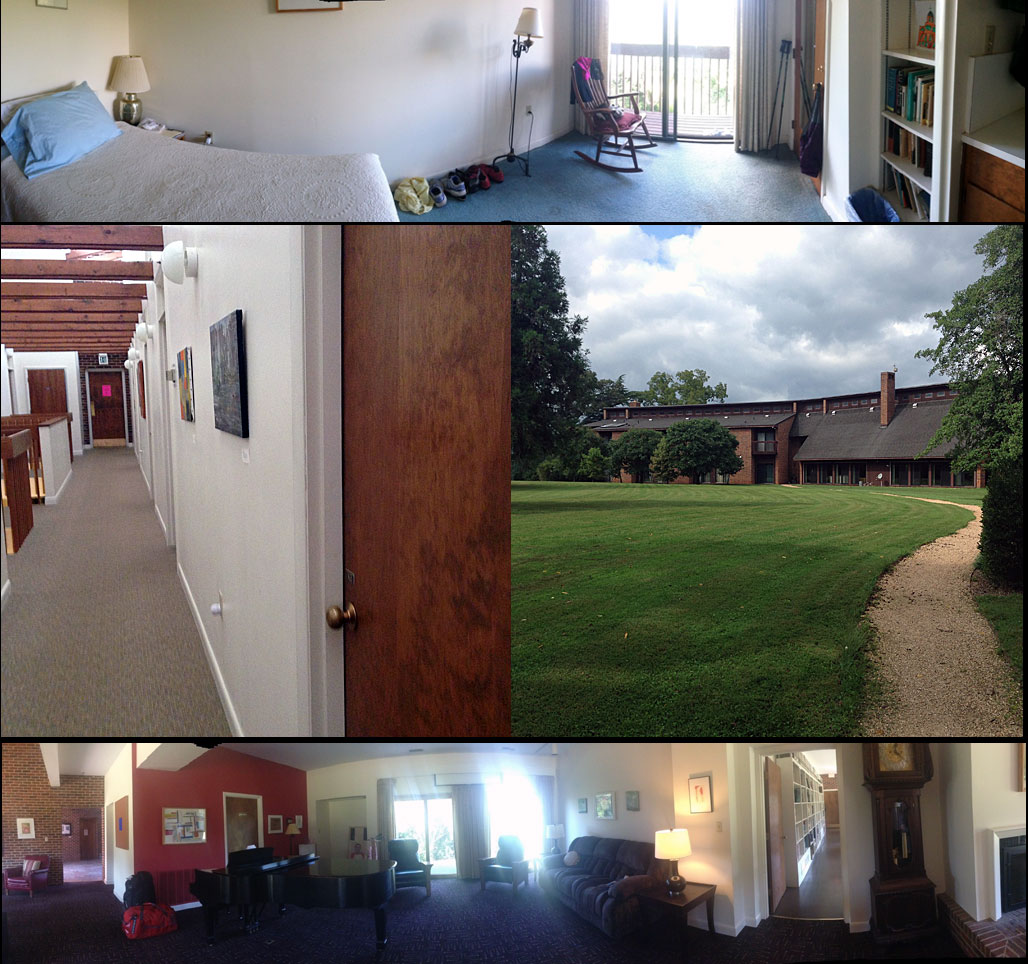 LODGING: the rooms remind me of my single dorm room in college, which isn't a bad thing. It's totally functional and cosy. In my room, there was a bed, a rocking chair, a tiny balcony you share with someone else on which you can just fit the rocking chair (though no room to rock), bookshelves, a sink, and a closet. I do wish there was a chair and a desk to sit at. I wrote in my room in the morning and evenings and my back was killing me due to various creative positions (kneeling by the bed! Lying on my stomach! Sitting cross legged!). You share a bathroom with a bathroom mate which was totally fine. Sound really travels in the residence hall but people were shockingly quiet for the most part, though I do wear ear plugs when sleeping. I did not have WiFi in my residence hall room, which was a pain, but it worked fine at the studio (though I would have rather had it the other way around).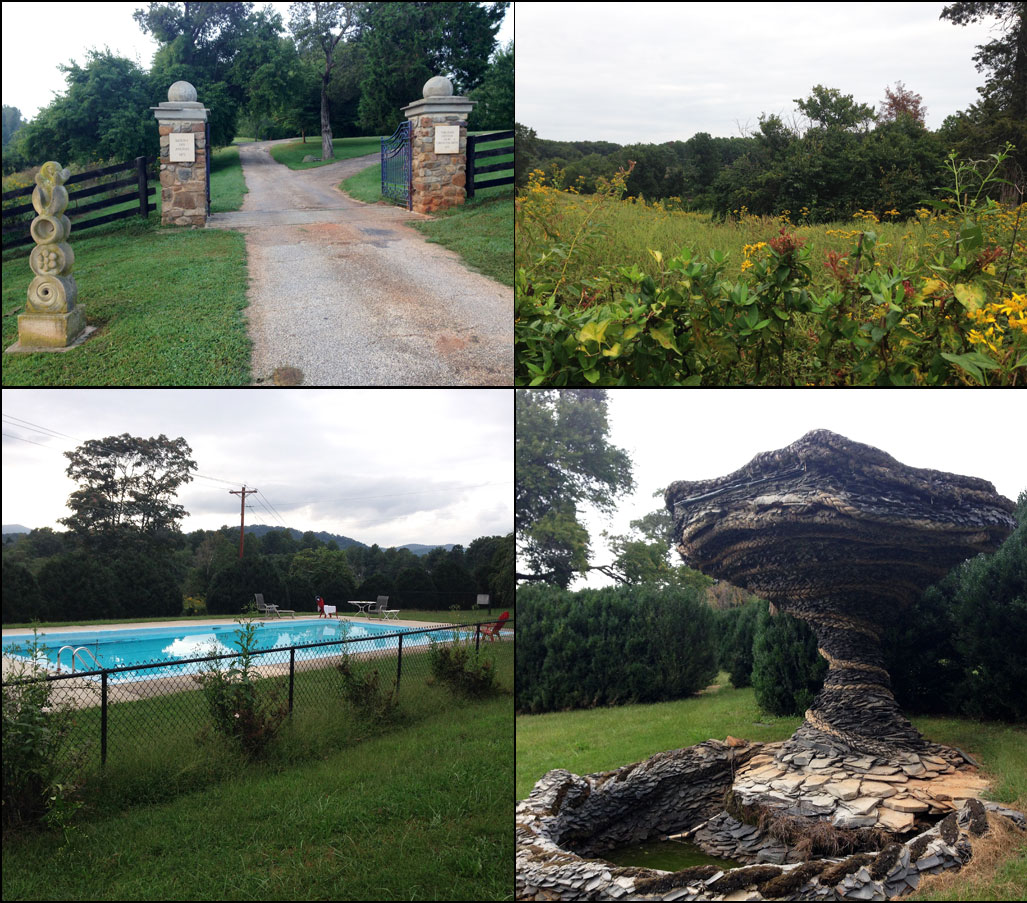 ATMOSPHERE: quiet and focused. On my arrival day, I wondered first where is everyone and secondly, why is no one making any noise whatsoever. But everyone was hard at work in their studios. The fellows came from all over: Europe, the South, South America, a few New Yorkers, though not as many from the west coast. All the artists were friendly, though I missed the close bond I made with my group at Saltonstall. Meeting 4 people over 2 weeks is easier than getting to know 24 people in the same amount of time. Many of the artists here had impressive bios (i.e. multiple books!) but there were also others like me working toward their first books, so it seemed a nice balance. The dining room staff flicks the lights at 7:45 p.m. which means everybody has to leave. Many people went back to work then, or some gathered in the lounge–I usually went back to work or read. On a few nights there were readings or presentations by other fellows. The two readings I went to were lovely and followed by a casual Q&A. There are lots of rules at VCCA, or at least signs listing lots of rules, which stressed me out at first, but then you get used to them. The surrounding landscape is beautiful – rural cows, rolling hills, mountains off in the distance, though it didn't feel as isolated or sheltering as Saltonstall because of that darn highway on the north side of the campus. Across the highway is Sweet Briar College, a beautiful campus, especially the western part near the horse stables. To the southeast of VCCA, there are some really amazing winding roads, great for bike riding, long runs, or long walks. In the back of the fellows residence, there is a nice gazebo where I sat and wrote a few times (you get WiFi!) but I wished there were more benches or chairs to write outside among all the art sculptures. There's even an in-ground pool (as well as a pool at Sweet Briar that fellows can use). VCCA has bikes you can borrow, though I didn't quite figure out how to get a hold of one. Some people told me they weren't in the best shape anyway and bringing your own bike is ideal. There's a 1.5 mile walking trail that begins near the VCCA pool, but the official start to the path seems to have gotten blown over during a recent storm. I finally found the path at the end of my stay. The Virginia woods are rich with spiderwebs so bring a stick to brush them aside. It was a nice walk, though brief, and I think the country roads and Sweet Briar make for prettier wanderings.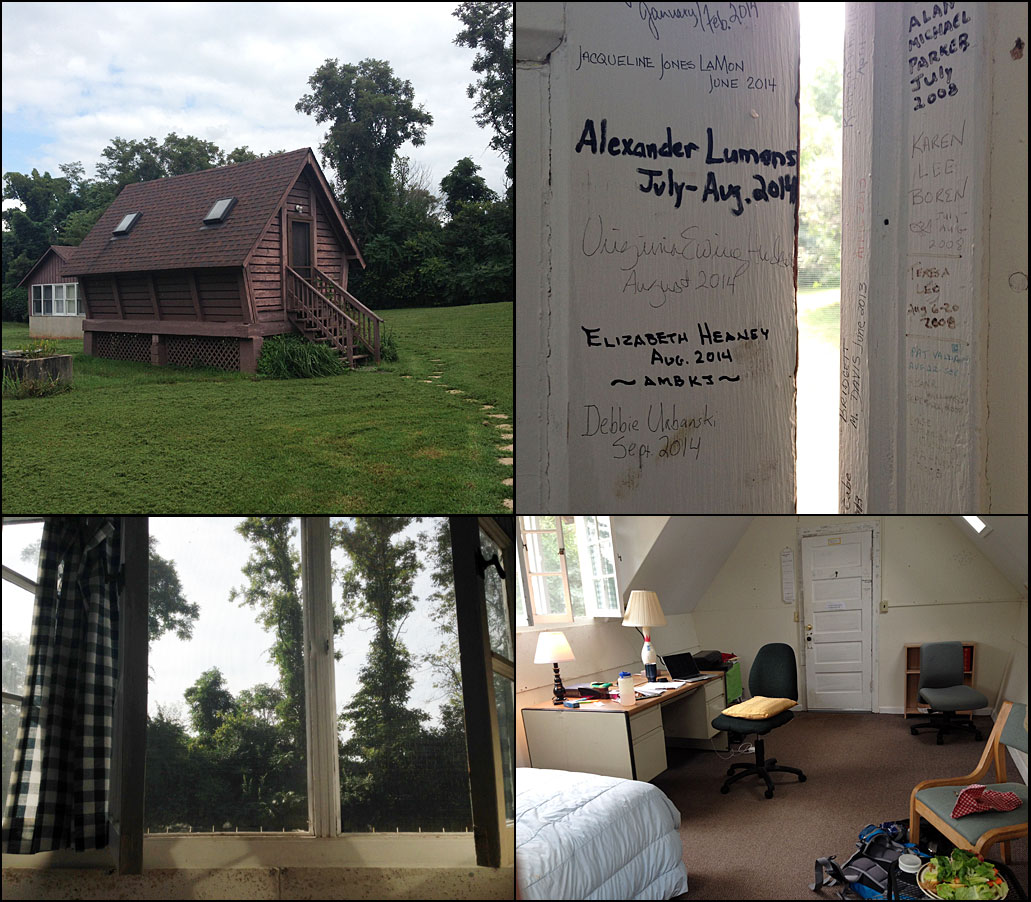 STUDIO: Well, I had the rather unique experience of having the freestanding writer's hut (pictured above), while the other writers had more standard rooms in the sprawling studio barn complex. When I first saw my spot on the map, I'll admit I was kind of terrified. Would I be writing in a garden shed? And seeing the rickety brown house didn't make me feel much better. And seeing the inside of the little brown house didn't make me feel much better either. The house and me never fully clicked (though I met another writer who had the little house a few years back and loved it– she loved the privacy and the fact no one could see in because the windows were so high). Though quiet, I think I just need more windows when writing, and honestly I missed having the buzz of other artists nearby (in the afternoons I could not keep myself awake in that place!).There are a lot of stinkbugs near the artist studios, and they managed to get in under the loose window screens daily (VCCA did spray for them while I was there). I ended up getting a bit claustrophobic in that space and found myself lingering in my room to write. Or I'd hike over to Sweet Briar Campus in the afternoon with my laptop and notes and do some editing down by the lakes. 
WORK ROUTINE: it took me several days to get into a rhythm. One of the other fellows mentioned your first time at VCCA, you're trying to figure the place out. The next time you come, you can settle in much easier and get a lot more work done. I was confused, at first, about how to structure my day between my bedroom, my writing studio, breakfast (near my bedroom), lunch (near my studio), dinner (near by bedroom), and any walks or runs I wanted to take. Here's what I ended up doing.
5:30-6ish – wake up.
6 / 6:30 – go for a walk or run, time depending on how comfortable I was with the dark (newsflash: there are no streetlights on rural roads in Virginia)
7:30-ish – grab breakfast and bring back to my room. Eat, shower, etc.
8:30ish – head over to my writing studio.
11:30ish – grab lunch at the studio kitchen, return to writing studio
3:30ish – head out for a walk at Sweet Briar College to do some reading / editing outside
6:30ish – dinner
7:30ish – do some more work or read (though I did not even touch my ambitious reading list. All I wanted to do for some reason was read YA genre books or speculative novels for fun. My novella was frying my brain I guess)
9:30/10ish – bed
I slept terribly at VCCA: was I worried about falling off a single bed? I have no idea. So I'd sprinkle one or two naps during the day. All the writing studios have beds in them, which is pretty great. 
SEPARATION FROM KIDS: I ignored my previous advice and tried talking to the kids on the second day. The conversation was a lot of "What? What? What? I have to go to the bathroom!" So my husband and I decided maybe texting each other photos and videos would be better. The best discovery this time around was sending bedtime videos to each other. The kids would each send me one while they snuggled with their dad – they looked happy, sleepy, and full of love. I would send one back where I made their stuffed animals that came with me do wacky things. I also sent them videos throughout the day: me walking to my studio, me running in the dark., etc. Re-entry was easier this time as my husband and I made a pact that we could not tell the other person life is easier while they are away. 
FOOD: VCCA provides all meals and takes care of your breakfast and dinner dishes. Pretty much all you need to do is wash your lunch dishes, unless you have food allergies like me (see below). Most of the people loved the food, or liked it enough. I prefer how Saltonstall worked: a chef cooks you dinner M-F, while you make your own breakfast, lunch, and weekend dinners from a magically stocked kitchen. If I'm writing hard-core, I like being able to determine when I'm going to eat breakfast and lunch on my own (5 a.m. breakfast! Or 2 p.m. lunch!). Being on a schedule at VCCA was a bit distracting to my writing, though I got used to it. 
Breakfast: served buffet style at the residence hall dining room, a pretty retro feeling place. There was always boxed granola, instant oatmeal, eggs, melon (though there was only so much morning fruit, and when it ran out, it was gone), plain yogurt, toast, etc. They don't want you taking the breakfast dishes out of the dining room, but I happened to bring my own leak-proof travel bowl and travel coffee mug, so I was able to eat either in my room or at my studio.  
Lunches: leftovers from dinner served buffet style in the studio barn, and also cheese, hummus or egg salad, bread, peanut butter, carrot sticks, lettuce for a salad, and sometimes soup. It seemed best to grab to lunch at 11:30 before the vegetables ran out (I brought lunch back to my writing studio and let it sit there until I was hungry). If you want to socialize, you can eat in the kitchen or outside at some picnic tables.
Dinner: buffet style at the residence hall again, with a strict end time when the dining room is closed. A salad always, two vegetables, a grain / starch, and a protein (vegetarian options if you can eat tofu or wheat). Figuring out where to sit the first few nights brought back flashbacks of middle school lunchrooms, but all the artists were kind and sociable at dinner. People seemed to linger less at VCCA over dinner conversation than at Saltonstall, where conversations could go on for several hours. Part of this is at VCCA you may be sitting beside a new person every evening, so I had a harder time getting to know people well.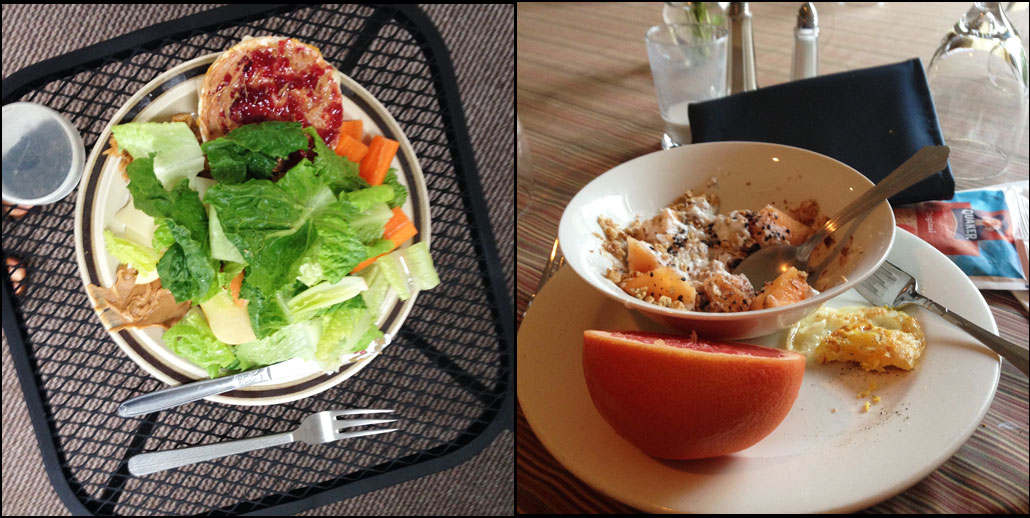 FOOD ALLERGIES: VCCA makes it very clear that can't accommodate special diets but, honestly (stupidly?) I thought….they can't be serious. I also assumed my body would be able to eat some wheat and soy and be okay. You're given a card on your arrival day where they ask for medically diagnosed food allergies, and I wrote wheat and soy and handed it in. The chef came out nervously after reading it and told me that their vegetarian protein always has wheat and soy. "I eat eggs," I told her. "Beans, cheese. Quinoa?" Then the chef pointed to the wheat pasta at dinner and at a stack of tofu. "You can eat pasta if it doesn't have wheat in it," she said. "But this has wheat it in." Then she went back into the kitchen. So at dinner that night, I tried some tofu. At lunch the next day, I ate some bread. That afternoon, I got sick. So I took a ride on one of the afternoon van runs, purchasing a lot of rice, corn tortillas, rice cakes, and cheese at the local Food Lion. I And that evening, the official dinner was….rice! And the following evening they served corn tortillas and beans! And the following evening was quinoa! It was like my gluten-free dream. One night even had gluten free pasta. I don't know if the chef took pity on me, or maybe they do serve a variety of whole grains, but it ended up being okay. I had to supplement with my own food for maybe 3 dinners and half the lunches. For breakfast, I was able to grab some eggs, and at lunch eat cheese or peanut butter. Another artist with wheat allergies shipped a lot of her own food to VCCA ahead of time. It seems like VCCA has the potential to accommodate food allergies; I wish they were able to do it officially.  
PACKING: one thing I forgot from Saltonstall is that I liked wearing the same thing every single day. (Well, at Saltonstall it was my silk pajamas until right before lunch). I probably could have brought about 1/10 the amount of clothes had I remembered this. An umbrella was a good idea. Head lamp / bike light if you plan on doing walks or runs in the early morning. A travel mug is important. 
WALKS AND RUNS IN THE AREA: I had way too much fun researching some good routes on google maps and mapmyrun. One of my favorites: take 661 east to 624 east then south. That road is wonderful, encompassing everything you think a rural Virginia road should. If you can make it to 604, take that northeast, and you can cut through a new development (north) not long after (London Lane?). The loop is about 7.5 miles but one of the best runs I've ever done. Alternatively, you can take 661 west, to 663 north, to Stable Lane: a great run and a little shorter. Sweet Briar campus is also ridiculously pretty and about 1.8 to 2 miles away: they have a lot of hiking trails in the woods that I would have explored more had I a bike or car, though a walk or run to their lake on the north side of campus (maybe 4.5 miles round trip) is a good one. I did find the Sweet Briar trails a little hard to follow: I'm an experienced hiker but ended up getting lost one time and had to bushwhack through some pretty nasty thorns / spiderwebs. I guess I'm used the signposted trails of the Northeast! One thing I learned is that being in rural Virginia means no street lights, which means the roads are really really dark at 6 a.m., when I usually went out for a run / walk. I have a reflector vest but wished I brought my bike light or head lamp. That being said, there is something mythic, magical and wonderful about starting a walk in complete darkness and watching the sun rise. It's an experience you can't get in a city and one of the highlights of my residency. The pictures below are from Sweet Briar.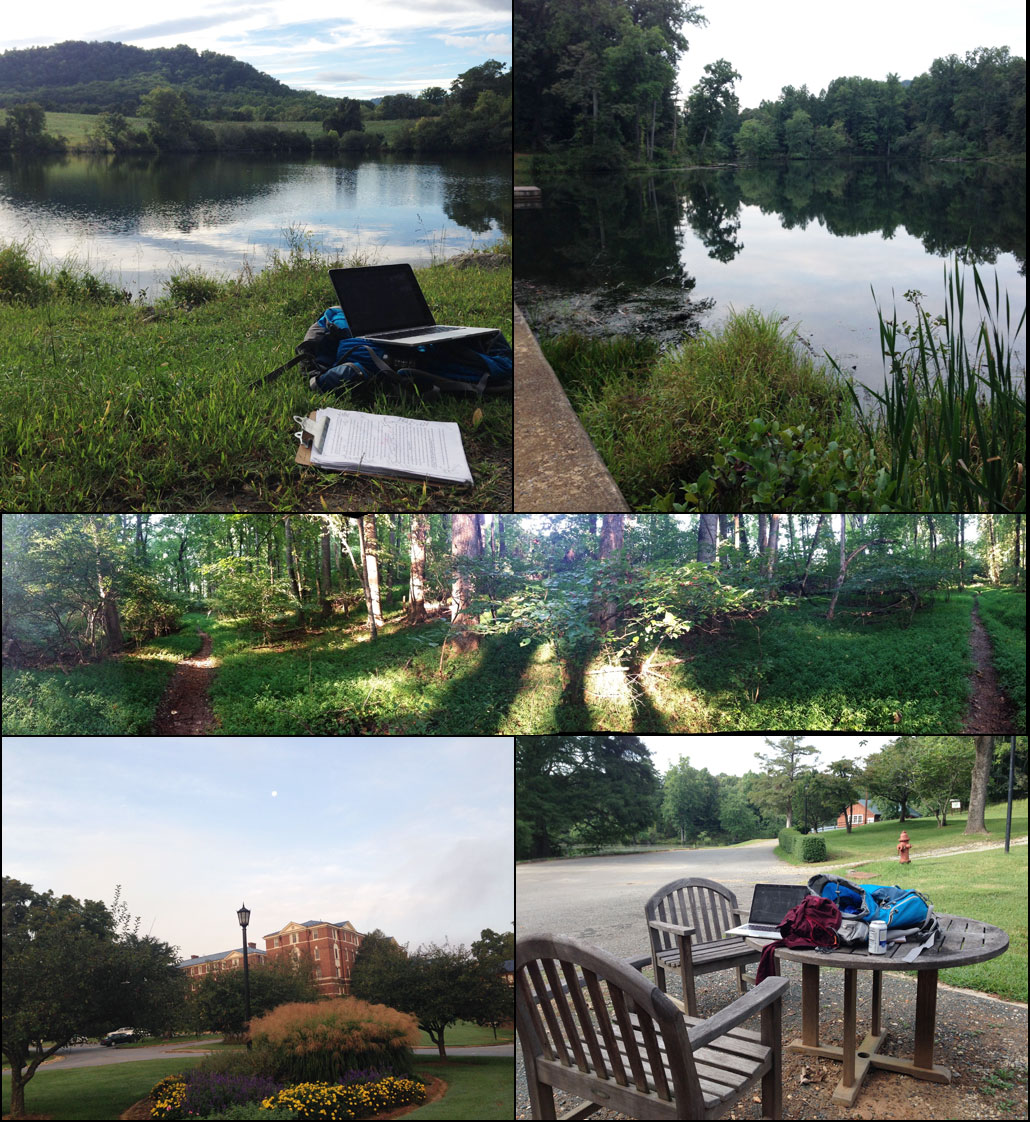 OTHER THINGS OF NOTE: there are errand runs Tuesday and Thursday afternoons, though you have to sign up for them ahead of time, and the spots (there are 4 of them) do fill up. The van hits the drug store and the grocery store.
BONUS: you don't have to submit a new application for three years. So it sounds like, once you get in, you can return pretty easily if scheduling allows.