My husband and I developed a nasty habit of really enjoying art museums when we were living in Minneapolis decades ago, and when our two children arrived, we weren't going to let the fact they existed make us quit. So we've been dragging our kids to museums ever since they were babies, learning a few things along the way, such as museum guards in big cities will probably be unkind so remember you're not there to see the guards, while museum guards in small cities will likely be nicer, and audio tours, especially audio tours for kids, are a godsend.
This summer we saw several exhibits that engaged the kids. I felt lucky to have the chance to watch my son and daughter experience, and lose themselves in, so much art.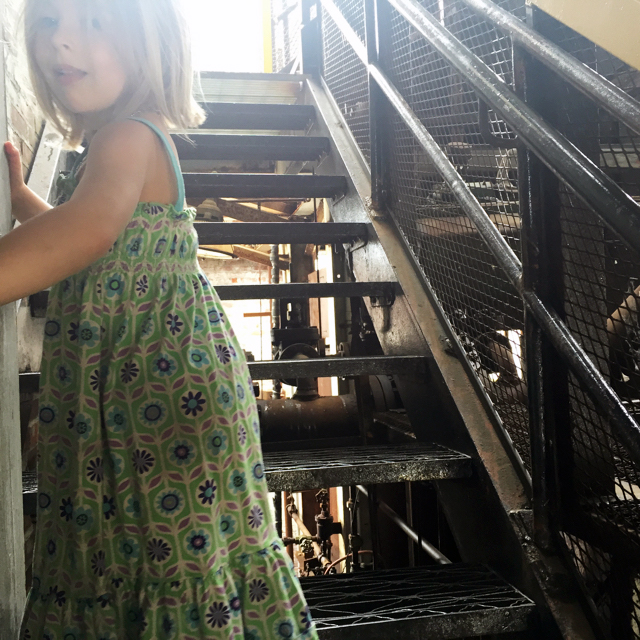 #1. Mass Moca, lodged in an old converted cloth printing factory in Massachusetts, was a treat, in part because the campus is such an industrial playground meant for exploring. Especially of note was Stephen Vitiello's All Those Vanished Engines, a sound installation taking place in the old boiler house building. While my husband called this perhaps the most dangerous art installation he's experienced (no unnecessary safety rails here!), the kids were thrilled with their ability to wander around the building on their own, and with Vitiello's sounds playing throughout, the once utilitarian setting was able to transform into something more sculptural, abstract, haunting (and haunted?), and timeless. I'm always grateful when art is taken out of its sacred guarded context and put in a place which encourages the viewer, and in particular a kid, to interact with it.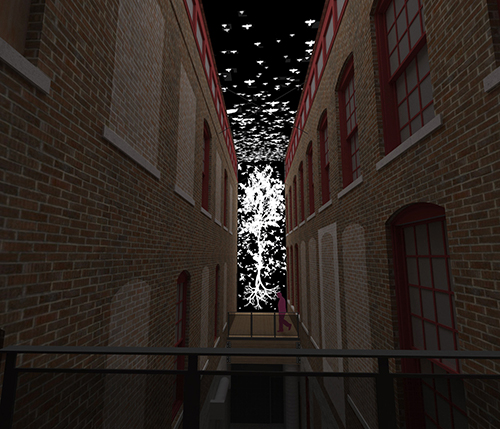 #2. Also at Mass Moca: Eclipse, a 100-foot video installation by Sayler/Morris, where a flock of passenger pigeons fly away via the walls and ceilings until nothing is left but a barren tree. Addicting and lovely to watch though also sad and timely, as we will probably see a lot more extinctions in our future. While watching the installation, I got to reminisce about One Came Home, a great YA book by Amy Timberlake that won a Newberry Honor in 2014 and takes place in the late 1800's when passenger pigeons could still fill the sky.  
#3. But my favorite exhibit at Mass Moca was Clifford Ross's Wave Cathedral. Two rooms held large photographs from his Hurricane series, which I am now addicted to, as is my 6-year-old daughter. We ended up buying the artist book and the two of us spent a good deal of time that weekend staring at each jaw-dropping photograph. It amazed us both how each picture of essentially the same thing–waves during a hurricane–captured such a totally different mood and impulse, while beneath the beauty ran this tension that the waves were also a destructive force, and in fact were in the process of destruction at that very moment. The kids enjoyed talking how in the heck Ross was able to take these photographs without getting swept away.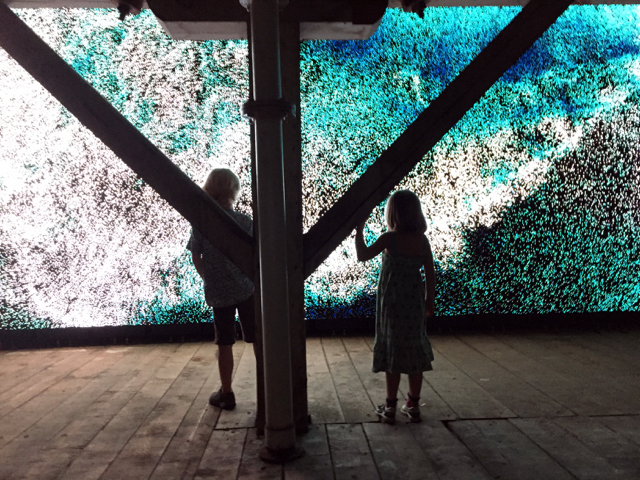 In a back room, in a rough and unfinished large space, was "Digital Hurricane Waves," where "computer-generated renderings of complex fluid dynamics are projected onto two large LED screens." We were lucky enough to have the room to ourselves. The kids were entranced as was I.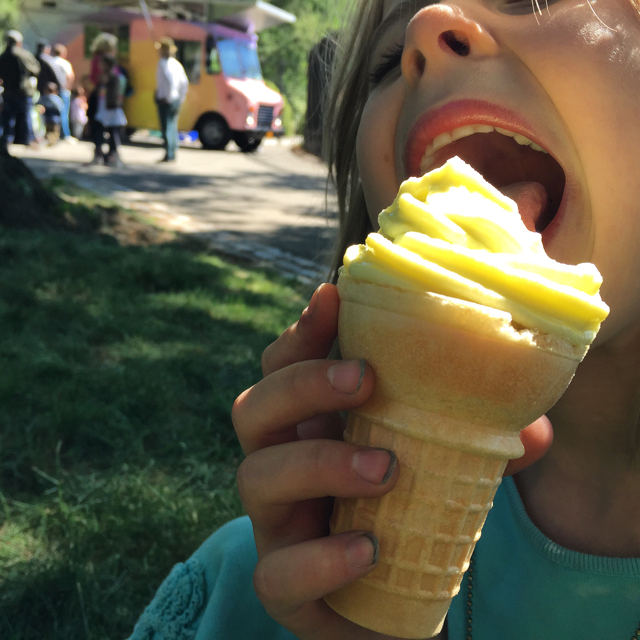 #4. Edible art. Spencer Finch's Sunset (Central Park), part of Creative Time's Drifting in Daylight in Central Park. On the one hand, this art project involved eating ice cream. which is pretty easy to understand. On the other hand, this was kind of a high concept art project, so I'm going to quote from the exhibit's supporting materials: "After painting a watercolor of the sunset over Central Park, Finch meticulously extracts its hues to color cones of soft-serve ice cream, served free to park-goers in a series of what the artist calls an "edible monochrome." A very nice assistant was on hand to try and explain it all to us though the process became a little too complicated for me to retain. Suffice to say the ice cream changed colors throughout the day, and the colors had to do with the hues of the sunset over Central Park that Finch had captured. So enchanting, to be able to participate in (and ingest!) art like this: we waited in line happily for about 20 minutes while some mood-altering music played, Jasper closely studying the shifting color of everyone's soft serve as it gradually transitioned from green to the yellow that we would receive. It tasted good too. 
#5. "Higher Ground," by Hillerbrand+Magsamen, shown at the Everson (Syracuse's own art museum) and originally commissioned by the Houston Airport System and the City of Houston. The husband-wife team Hillerbrand+Magsamen seem often to focus on performance art that involves the family, and my kids were thrilled to see other kids in the video installation, as well as to find art with humor (the video shows the artists' family constructing a space rocket to Mars out of everyday household objects). The exhibit was meaningful as well as entertaining, focusing for me on the tension between imagination and reality. Is a collective (or family) imagination possible? What would that even look like?The kids didn't want to leave.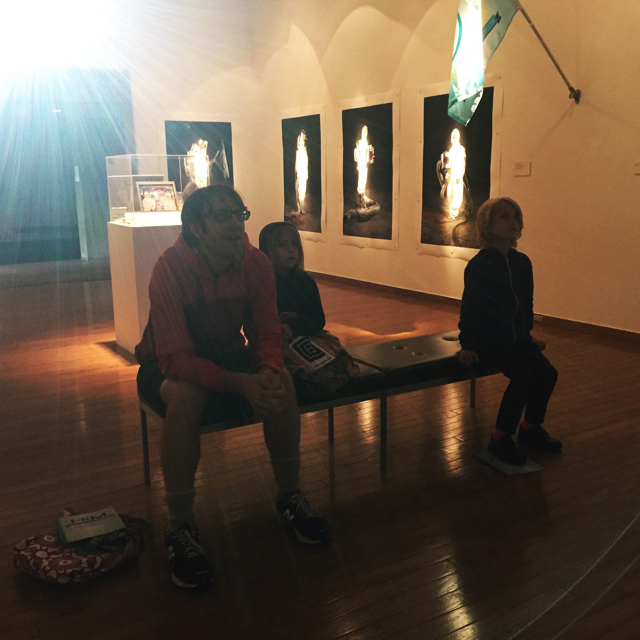 The exhibition was supported by a lovely operations manual / activity book commissioned for the Everson exhibit that had some interesting prose-poem musings on family and journeys, as well as mazes and coloring pages. From Section 1, Mission Details: "Who is in your family? It may not be the people with whom you spend the most time. It may not be the people with whom you have the most in common. It may not be just people. Many dogs and cats think of themselves as family members. Many a fish and its tank have pitched in to try to put out a house fire. The birds look in our windows and wish they could be a part of the family. Each family member has a plate of food. Each family member has a preferred place on the couch. The birds have nothing. Talk to the people who live in your house. Determine their origins. Family is a rank or badge that functions as a welcome mat. Family members don't have to knock to enter the home. We all have keys."